The Country Partnership Framework for Morocco (2019 to 2024) has the overarching goal of contributing to social cohesion by improving the conditions for growth and job creation and reducing social and territorial disparities.

The World Bank in Morocco
The employment landscape in Morocco
Morocco: home to the deep history of the Arabs and Berbers, exquisite architecture featuring traditional Moroccan tiles named 'Zellige', a bustling traditional marketplace called 'Souks', and the majestic Atlas Mountains. This North African country is populated by approximately 37M people, with 42.63% of the population being in the labor force (% of population age 15+). The World Bank recently announced its approval of a US$450M loan to support Morocco in ramping up public access to financial and digital services. As with many other countries, Morocco also suffered economically and socially from the pandemic, affecting many vulnerable groups such as women, youth, informal workers and small business owners.
Even before the pandemic, employment prospects in Morocco were characterized by slow-paced job creation, inactivity and a low quality of jobs. In a newly released report on 'Morocco's Jobs Landscape', statistics show that over 30% of youth (15-24 years old) in the country are neither working nor investing in building up skills for the future. These individuals are known as 'NEETs' (Not in Education, Employment, or Training). In addition, over 80% of working-age women in Morocco's cities are not in the labour force, and 55% of them are employed in informal jobs (i.e. rural agricultural labour, self-employment, micro-small enterprise with low productivity).
Particularly, in rural areas, both women and young people have few opportunities for advanced training, and as a result, fewer opportunities for skilled jobs in the area of their community. This lack of quality opportunities contributes to the phenomenon of early marriage, which particularly affects girls from disadvantaged backgrounds.
The state of connectivity in Morocco
In Morocco, only 53% of the rural population has access to the Internet, as compared to 72% of the urban population (2018). The gender breakdown of Internet usage is 61.1% for females as opposed to 68.5% of the male population, highlighting that there is still a gender gap in connectivity that exists.
There is a general consensus from Moroccan citizens, regardless of geographical location and of gender, that having access to the Internet is important (41%) to very important (34%) in the professional aspects of life. The Internet is an agreed-upon medium to improve one's skills and allows lifelong learning for the majority of the population. As a result, having access to digital resources and developing digital skills would open doors to more quality job opportunities.
In August 2021, Grey-box's CEO Valentin Kravtchenko traveled to Morocco along with Montreal-based partner organization – La Puce Ressources Informatique – for an international partnership project. The project aimed at exchanging knowledge and expertise with a Moroccan-based organization – EMESSE (Moroccan Space of Social, Solidarity and Environmental Economy), with the end goal of setting up a computer training program for young adults who would have difficulty accessing the labor market.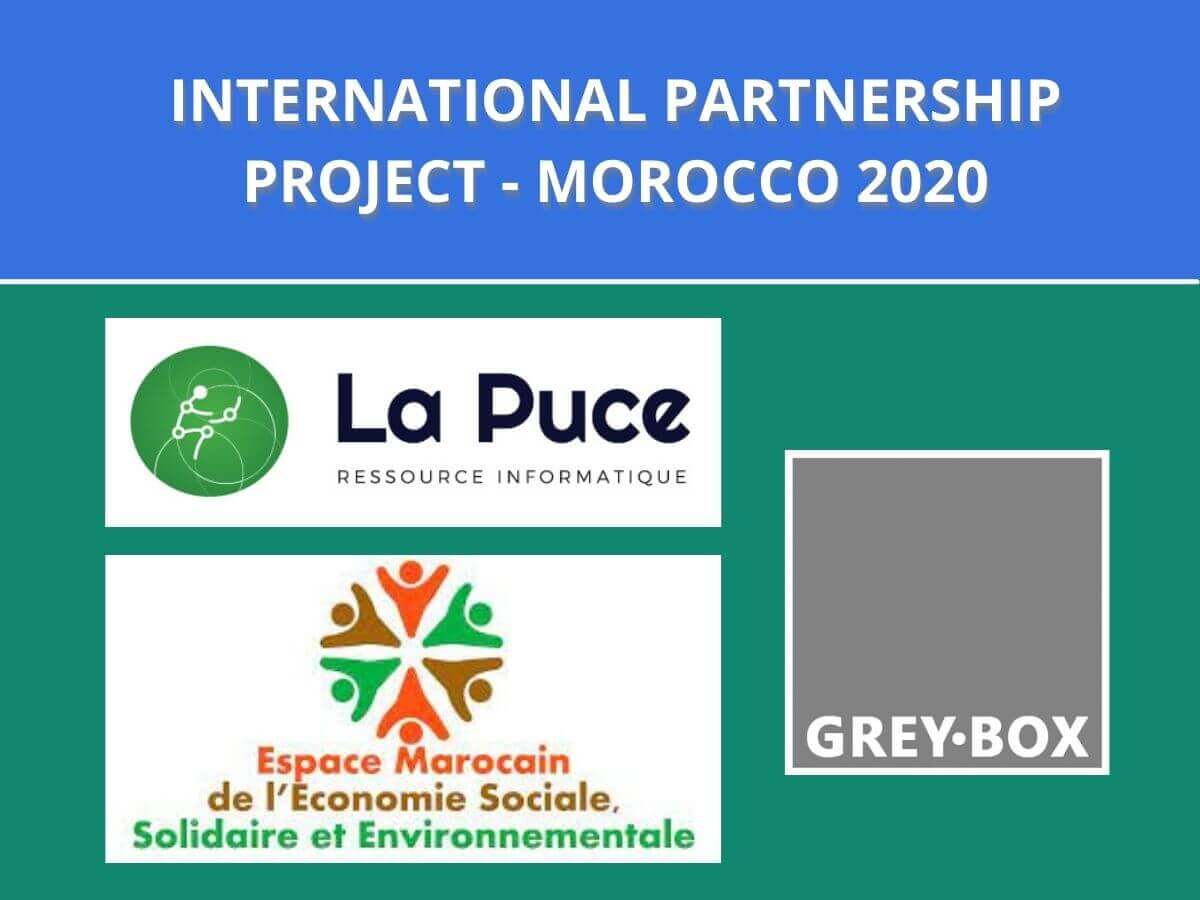 During the span of two weeks, Kravtchenko had the opportunity to give a workshop about digital literacy to a group of women aged 16-25 when visiting the partner's site, in which he also brought UNI to be tested on the field. Internet access in the building was limited with multiple users, and Grey-box's UNI eased the connectivity overload by allowing multiple devices to be connected to the resources at hand. In addition, Kravtchenko also trained the teachers to lead the computer training program on digital tools such as social media and video conferencing. The program also discussed digital hygiene and safe practices in order to create a healthy work-life balance, avoid cyber-intimidation and some basic rules about cybersecurity.
Most importantly, Kravtchenko recalls interesting discussions where the group of women was sharing their experience and relationships with their digital tools – and digital lives – where their cellphone becomes a natural extension of their day-to-day behavior. Everyone in the group knew how to use their cellphone but not everyone was as comfortable using a laptop with Windows. While social media apps like WhatsApp would often be included for free in their internet plan, the data plan would often be limited to a few gigabytes that would often get used in the first week or two. As soon as the groups got into the training centre, their reflex was to look for WIFI access.
"Do you have WIFI in your school?" asked Kravtchenko. "Of course!" a few students answered immediately but the later conversation would shed the light on the fact that that WIFI is only accessible to teachers. Students needed to use their phone's data – and they would share it with their friends based on who has access to what kind of data plan – and budget.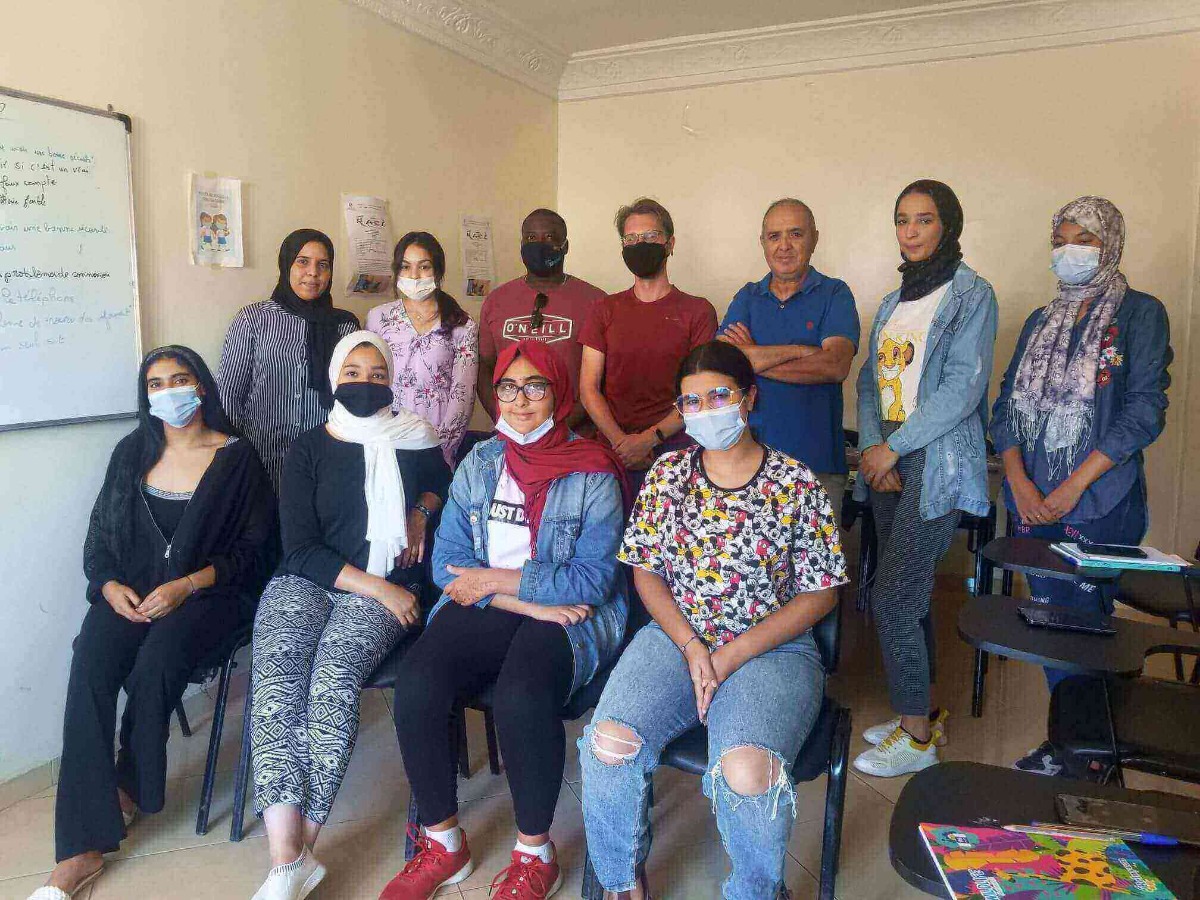 To wrap up the trip, Grey-box's UNI also made its first public appearance in the form of a short demo, captured in the heart of El Jadida, Morocco, a well-preserved UNESCO site that is still inhabited by locals. Take a look at the demo video as Valentin explains the features and functions of UNI (see detailed about UNI and how your organization can get involved here).
If you are interested in reading more about the story behind UNI, don't hesitate to check out UNI project page.
Grey-box is a social innovation nonprofit aiming to bridge the global digital education divide. Grey-box's mission is to build accessible digital tools that promote autonomy and empowerment within communities located in remote areas. Imagine a world where anyone could have all the world's knowledge at their fingertips – without needing formal access to the Internet at all. Grey-box is working to make this distant fantasy a reality. Our product, UNI, is a portable and inexpensive device that can be deployed quickly in even the most remote areas where the Internet is otherwise inaccessible.