16.9 Million Children Remain Logged Out Because They Don't Have Internet at Home
In places where we're online every day – constantly "slacking" or "instant messaging" our co-workers, learning about new tech, or staying up to date in world news, it can sometimes feel as though the internet and connection surround us, everyone, we know. If you're a student living in America, you are very likely used to googling your assignment or doing your research online. However, imagine if those tools weren't at your disposal and couldn't ask your teacher or classmate a question after school hours. How would you advance? How would you move forward with the rest of the world if you didn't have simple access to an internet connection?
During the pandemic, education became a virtual reality for many students, but some families were lacking internet access. In this article by ALL4ED, the organization discusses a new phenomenon called "the homework gap".
"According to an analysis of data from the 2018 American Community Survey conducted for All4Ed, National Urban League, UnidosUS , and the National Indian Education Association, millions of households with children under the age of 18 years lack two essential elements for online learning: (1) high-speed home internet service and (2) a computer."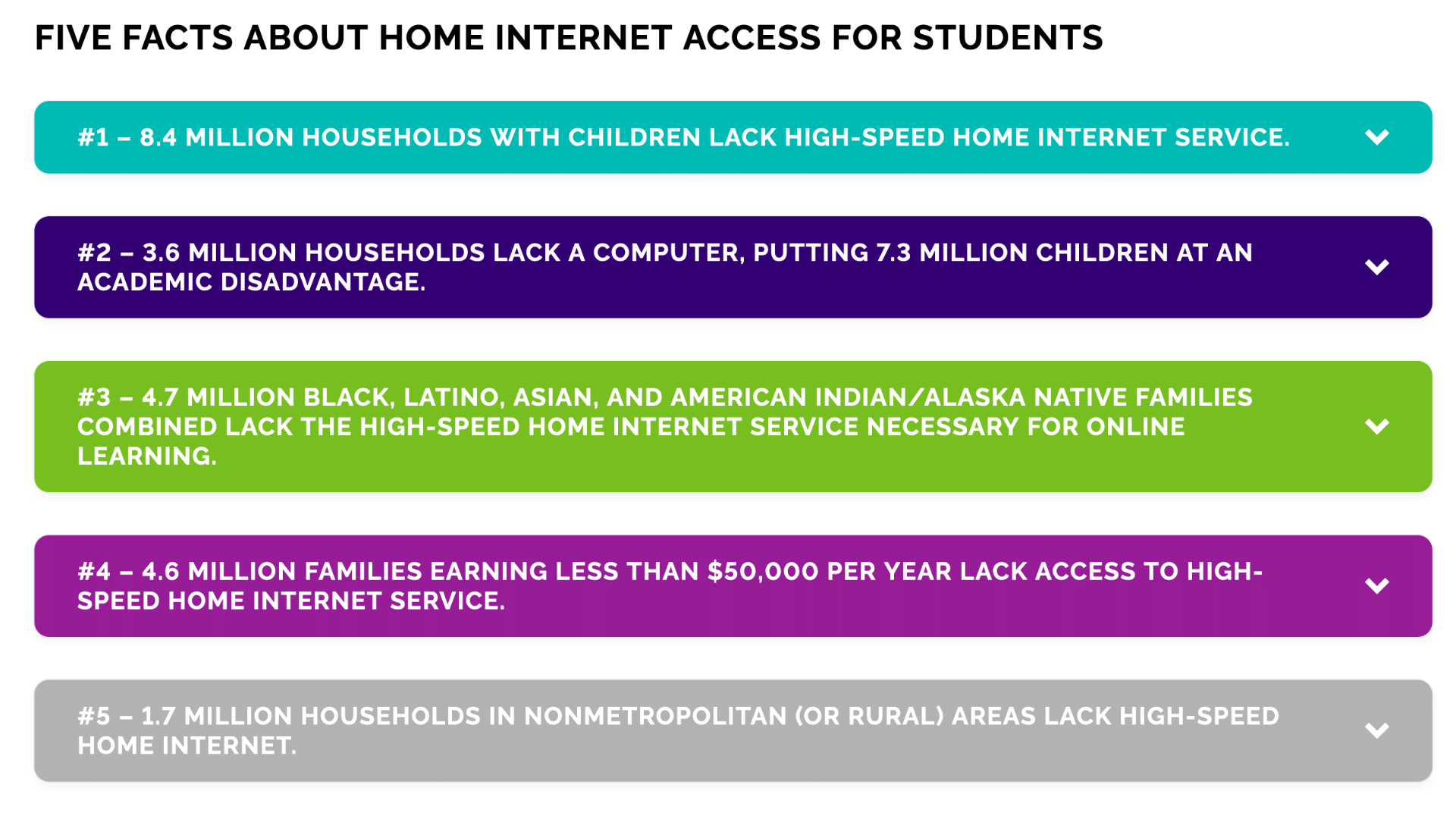 As you can see from their data, a large majority of families and students are not equipped to be learning online. This demonstrates how the internet plays a significant part in educational advancement and who we are leaving behind. As we integrate digital learning more and more into our everyday lives, if we do not make sure these areas are receiving the necessary funding and networks they need to survive, it will only continue to isolate these areas.
One of the main issues lies in equipment and devices which heavily rely on school systems. It is up to them to have the funding or financial capabilities of providing those devices when there are huge economic disparities.
"Congress should appropriate the $6.8 billion necessary to cover immediate costs related to high-speed home internet access and devices in any upcoming funding packages passed in response to the COVID-19 pandemic. Ultimately, additional substantial resources will be necessary to build out the infrastructure in rural areas where connectivity is not currently available"