Greetings from Grey-box! Closing an intense 2021, we wanted to reflect on what our team was able to achieve with your help in this second-ever newsletter (yes, we are that young!)
A lot of updates are based on over 250 interviews with people working on the field who are facing digital literacy and digital divide issues. Our team grew to about 44 employees, interns, volunteers, and coaches that believe that this is a solvable problem.
Really, we should have named ourselves grew-box, but the marketing folks had different opinions about it.
SNEAK PEEK of our new features 🎉

Features, Features, Features: We streamlined a great deal of our interface and added a few requested functionalities (that are discussed later in this newsletter). Changes are even more obvious when we compare it to our last video. The tricky thing is to make sure that it works on ANY device, as long as they have WiFi, and we have come a long way!

Here's an overview of everything that we worked on (we've been busy!):

Boot Wi-Fi Hotspot and Server automatically

Notify (basic messaging)

KIWIX Compatibility (popular for cloning sites like Wikipedia)

File Manager (use UNI like a drop box)

Translation in French and English

Dashboard (connected devices, storage, and usage statistics)

Feedback and Tech Support Tickets (downloadable by the admin)

Time adjustments (without internet or battery)

Custom Landing Page URL (definable by the admin)

Custom Landing Page Content (definable by the admin)
Work Integrated Learning:
 In 2021, our team of almost 30 interns and volunteers worked over 6,200 hours on our IT development and marketing efforts. Wage subsidies (such as the DS4Y program) helped us add meaningful and professional experience to our team – while being supported by mentors and consistent training in soft and hard skills.
Media Coverage: 
Our story and project got some coverage this year, as the world is getting more aware of our reliance on internet access. We got featured in a few events and articles!
Social Media Kickoff: 
We hired our first social media intern in May and we started to work on our social media strategy. How did we do?
 We wrote 47 posts on Facebook between May and December 2021, got 2,218 impressions and an engagement rate of 13%. As for LinkedIn, we did 63 posts for the same period, with 17,915 impressions and an engagement rate of 15.4%. We added 87 followers on Facebook and 242 on LinkedIn. It's definitely signaling that LinkedIn is finally getting more traction in the Non-Profit Organizations space – while Facebook becomes more of a paywall if you want to get exposure!
Live streaming: 
We also had fun with Clubhouse! Audio Rooms was a new thing in 2021 and we joined the parade by creating 4 events about Social Impact Leadership. We talked about impact assessment, the digital divide, knowledge management and remote work. We reshared that content on our social media pages, with a total views of over 2,293 across 12 clips!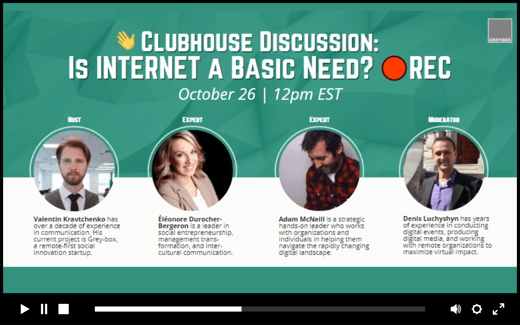 Join our community of non-profit leaders. We are looking for experts in social impact and/or educational technologies to take part in our monthly discussion – because sharing [knowledge and experience] is caring! Contact us!
Our website is growing:
 In 2020, our website was pretty much a landing page. We have since added multiple pages, adjusted our content to sync better with United Nations' Sustainable Development Goals, and even added French and Spanish versions! In 2021, we had a total of 44,490 page views on our website. We also added 5 new blog posts (users spend an average of 3min 42sec on those!) – and, being ecological and all, we reuse that content on our social media pages.
⚠️ If you are familiar with the mysterious art of grant writing –
we definitely could use your help! We are also looking for partners who want to apply to some of those grants with us and help us reach isolated populations through capacity-building projects. Send us a message! 
Conclusion 👋
Big things are coming up but, for now, our focus is to deploy our beta product, UNI, across 20 testing sites (contact us if you are interested in increasing your impact) and give a push to our training services (a lot of social impact organizations asked to help them in their digital transition, so we want to make it a bit more official). In our next newsletter, we will announce some of the new projects that are joining our ranks (spoiler alert: it deals with AI and even more online resources).
WOW! You read 'till the end? Why don't you give us call? We have questions for you!