The Covid-19 pandemic has brought unique challenges to the nonprofit world. Protocols such as social distancing and stay-at-home orders have disrupted many nonprofit plans and programs. In response, nonprofits have embraced technology as means to overcome new challenges. A dominant trend has been an increase in the use of ICTs (Information and Communication Technology) such as websites, emails, social media, chat, and video conferencing software. They have been useful in connecting nonprofit workers, volunteers, donors, and recipients in their activities. However, the benefits of ICTs have not been distributed equally around the world. The global digital divide has excluded peoples who do not have universal access to reliable internet. It is thus, important that nonprofits pay attention to how ICT trends can be used to serve everyone.
Impacts of Covid-19
The Nonprofit Technology Trends report, conducted by Sage Intacct, highlight the five biggest impacts of Covid-19 on nonprofits:
Program disruptions
Challenges shifting to a remote work
Innovations from virtual environment
Decrease in funding
Increased demand for services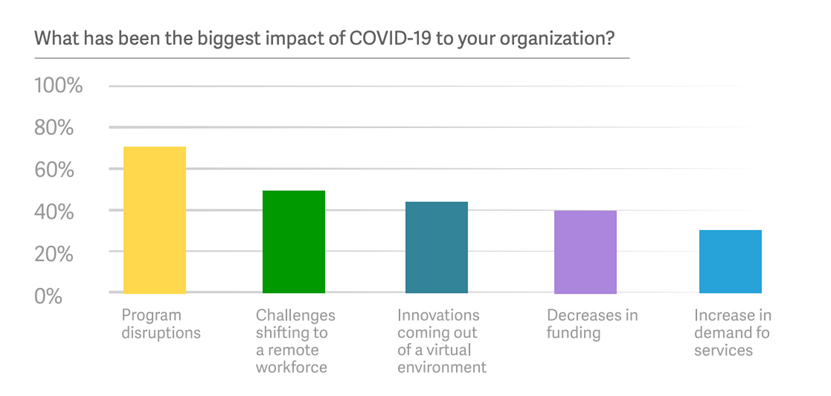 The Covid-19 pandemic has brought nonprofits waves of constant change and uncertainty. They have been experienced not only by nonprofits, but also their donors, supporters, and recipients. With forced closures, extended periods of remote work, and very inconsistent reopening plans, the need for adjustment have become crucial for nonprofits to carry on their work.
Recent ICT Trends
The Global NGO Technology Survey, also conducted by Nonprofit Tech for Good, showed that in 2021:
32% of NGOs use internal communications software such as Slack
79.3% of NGOs use video conferencing software such as Zoom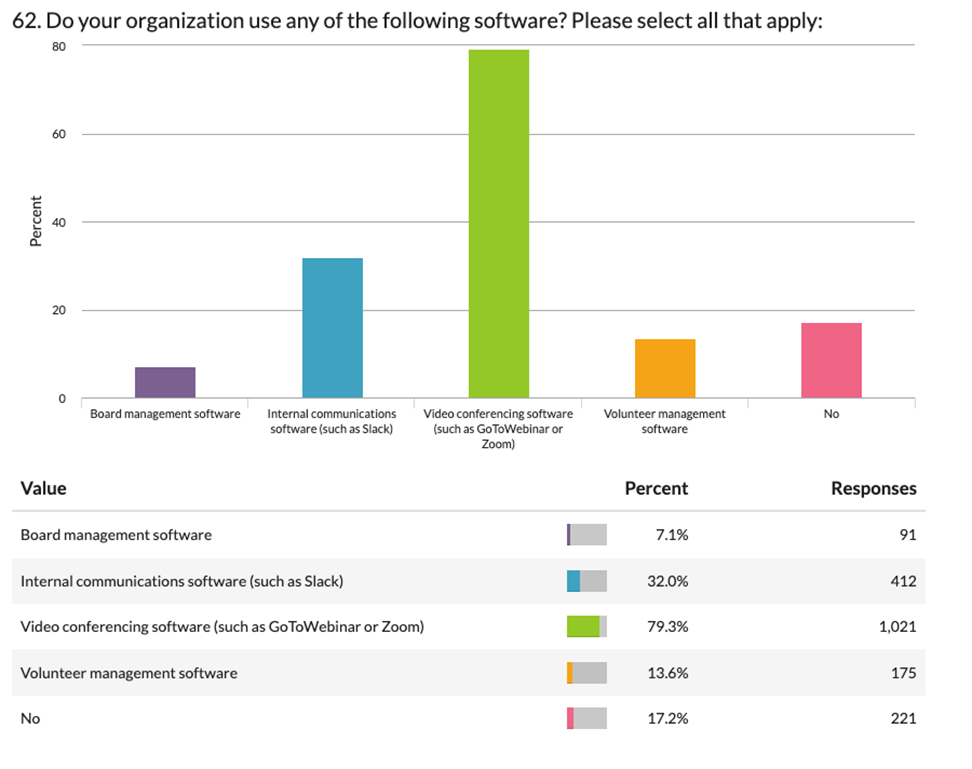 It is seen in the above reports that nonprofits worldwide have been rapidly expanding their use of technology with an increased reliance on them. ICTs such as the web, email, social media, internal communications software, and video conferencing software have become powerful online communication tools that nonprofits have to inspire philanthropy, create awareness, and engage momentum for their mission and programs.
As nonprofits embrace digital transformations since the onset of the Covid-19 pandemic, long standing issues of the digital divide are illuminated. The matter is that many rural and low- income communities of the world lack reliable, affordable internet access. People who do not have connection to the internet are denied access to the benefits of technology as more devices and systems reliant on internet connectivity emerge. However, technology is meant to be an equalizing tool, not a source of division. Collective efforts are required to ensure universal digital accessibility.
Want to learn more about how Grey-box is helping bridge the global digital divide? Check out our product, UNI, a portable local hotspot that makes offline resources accessible: grey-box.ca/uni
References
https://app.hushly.com/runtime/view/sage-intacct-2021-nonprofit-technology-trends-report-whitepaper.pdf?guid=10u9r5gkp45beoe37cla8dood5